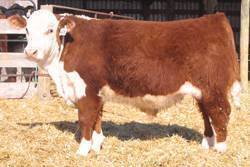 Thank You to Harold Hallsen of Lundar, MB for purchasing RSK 15T EXCEL 48X.
RSK 15T EXCEL 48X
Reg# - C02950127
Sire - RSK 030047 TALLEDEGA ET 15T
Dam - RAWCLIFFE 46B ROXY 41R
BW: 90 • WW: 580
• View EPDs

RSK 15T Excel 48X is the type of bull calf that you can throw out with a group of heifers and not have to worry. Not only should they calf good but you will be impressed with the calf crop. RSK 15T Excel 48X will add that extra shape in the lower half of the calves, add flank, and chest. His sire RSK Talladega does just that and combine it with the power of the Boomer 46B Rawcliffe dam, this guy will EXCEL in your herd.
Thank You to Bruce Janke of Lundar, MB for purchasing RSK 17 EXPERT 55X.
RSK 17S EXPERT 55X
Reg# - C02950128
Sire - RSK 100L STINGER 17S
Dam - RSK 4L SUNSHINE 25S
BW: 85 • WW: 578
• View EPDs

RSK 17S Expert 55X is another heifer approved bull prospect with and actual 85lbs birth weight. Ideally RSK 17S Expert 55X is made to add stoutness, remove frame size while adding some eye appeal or style to his calves. RSK stinger 17S was very good to the RSK program raising calves that added stoutness, muscle, and pigment. I cannot say enough about RSK 17S Expert 55X's dam. She is one of the top females in the herd consistently raising top calves. She will enter the flush program this year. Leave the breeding up to an EXPERT.