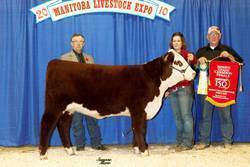 RSK 69T Miss Magnolia 6X
2010 MLE Reserve Champion Female and
2010 MLE Champion Heifer Calf.

RSK 69T MISS MAGNOLIA 6X
RSK 69T Miss Magnolia 6X has been an eye catcher from day one, like most of the Traveler calves at the farm, peas in a Pod. RSK Miss Magnolia is a dark, pigmented, long bodied, and deep sided female that will ad muscle to her offspring. We all know what Traveler can do, so no need explaining. RSK Miss Magnolia's dam is one of our top RSK Harrison daughters. She will be going into a flush program this spring, which makes it a little easier to part with RSK Miss Magnolia. RSK 6X will prove to be a great producer and to well in the ring, especially for the next junior show.
BW: 98lbs
Reg.#: C02940506
Tattoo: RSK 6X
Sire: HARVIE TRAVELER 69T
Dam: RSK 24H MAGNOLIA 45M